At Dwelling Decor we always tend to bring you the most stunning decoration designs for all the corners of your house. This time we have showcased a wonderful gallery of 50 Best Bathroom Design Ideas To Get Inspired. Check out and get inspired.
Your bathroom is a great place to try your creativity and unleash all of your interior decoration ideas. As the bathroom space is so small, you don't have to spend a fortune on design materials just to end up regretting and finding out that you don't like the design after all. One more advantage is that they can make for a quick and painless redesign scheme due to the small space.
A bathroom needs to be facilitative with all the required luxuries and comfort in order to set the mood of the day or night. A bathroom can be chosen which is very spacious or the one which is just perfect for the basic necessities of a bathroom. Getting the best bathroom design ideas will go a long way in raising the standard of living of a person and making it a luxurious part of the house. Be it large or small, we have to give due importance to the basic components of a bathroom. We need to consider the color shade and combination of tiles of the floor and the walls as well as the storage cabinets. We also have to decide on what kind and quality of sink to use, where to place the mirrors, and whether to use glass shower doors or shower curtains.
There are a lot many decoration ideas available in the magazines as well as online if you are looking for ideas to redecorate your bathroom and give it a whole new look. Here you will find the latest trends in designs for bathrooms and indeed for every room of the home. If you want to live with today's trend that believes in transforming the bathroom of your home into a mini-spa where you can relax in comfort and soak away the aches and pains of the day, then scroll down to our gallery and get inspired.
Best Bathroom Design Ideas To Get Inspired
Artistic Bathroom With Beautiful Graphic In Shower Enclosure
Attractive Compact Bathroom
Black and White Small Bathroom Design
Chic Pop Color Small Bathroom Design
Clean And Bright Small Functional Bathroom
Contemporary Bathroom With Center Bathtub
Elegant Modern Bathroom Design
Elegant Small Industrial Style Bathroom Design
Functional Contemporary Style Bathroom Design
Funky Small Bathroom With Floral Wallpaper Design
Industrial Bathroom Design With Wood & Concrete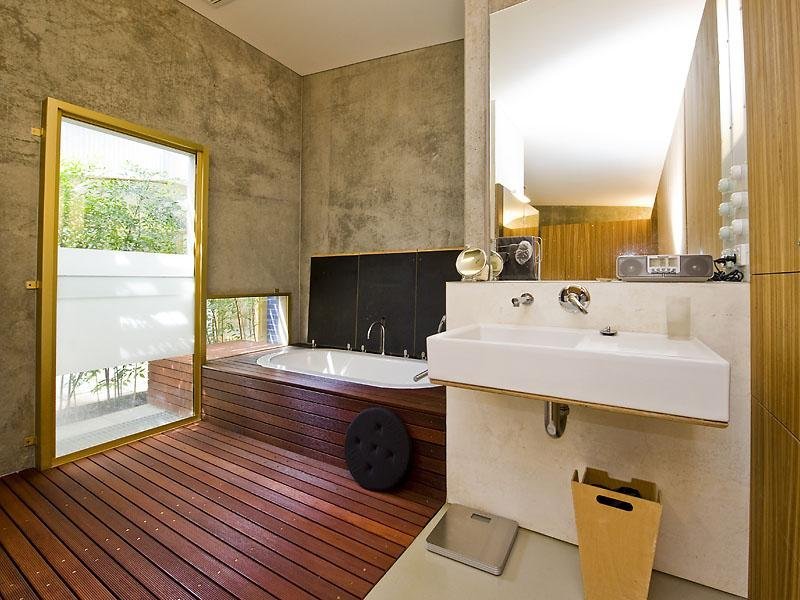 Luxurious Bathroom With White & Gold Combination
Modern Bathroom With Wonderful Bathtub
Nature Inspired Small Bathroom
Pink Bathroom Design Idea For Girl
Small But Luxury Bathroom Design
Small Coastal Style Bathroom Design
Small Industrial Chic Bathroom Design
Small Sophisticated Bright Bathroom Design
Traditional Kids Bathroom Design
Ultra Modern Style Bathroom Design
Attic Beach Style Bathroom
Beautiful Farmhouse Bathroom Design
Bold Industrial Bathroom Design
Cool Gray Contemporary Bathroom Design
Craftsman Bathroom Design
Eclectic Bathroom With Barn Door
Grey Subway Tiled Traditional Bathroom
Hollow Mediterranean Style Bathroom
Large Scandinavian Bathroom
Master Bathroom With Gold Leaf Tiles
Midcentury Modern Bathroom
Mid-Sized Victorian Bathroom Design
Minimalist Modern Master Bathroom
Open Concept Asian Bathroom Design
Rustic Bathroom With Distressed Cabinets
Shabby-Chic Style Bathroom
Southwestern Bathroom With Alcove Shower and Black Tile
Transitional Bathroom With Freestanding Bathtub
Tropical Bathroom With Multicolored Wall